Application deadline
Apply by
March
15
to start

May 7
Credits and costs
48
Credits
$1,248
per credit
No GRE/GMAT Scores Required
Applicants to the Penn State Online MBA do not need to submit any GRE or GMAT test scores.
As a Penn State Online MBA Student, You Can:
gain an in-depth understanding of how businesses operate
learn to influence and work effectively on high-performing teams
develop abilities needed to lead and manage strategically for the future
acquire marketable skills in business analytics, critical thinking, and problem-solving
Experience a Unique and Flexible Online Curriculum
Learn when it's right for you thanks to flexible, asynchronous online courses. Meet your deadlines by doing work when it's most convenient for you. You can also attend optional synchronous online sessions for real-time engagement. These are recorded in case you can't make it live. Our On-Demand Webinar can provide you additional insight into the curriculum, and upcoming sample classes will allow you to view what your experience would be as an online MBA student.
Stand Out from Others by Customizing Your Education
Develop tightly focused, career-ready skills tailored to your personal strengths and unique goals. The Penn State Online MBA allows you to customize your program with one of 25+ concentrations. Few top-tier online MBA programs offer this level of depth. Each concentration gives you three elective courses to complement and supplement what you've already learned in the core courses.
View our courses to learn more about each of the concentrations.
Set Your Own Pace
Take one, two, or three classes per semester based on what your life will allow. Need a semester off? No problem. Need to speed up or slow down? You can do that with the Penn State Online MBA.
Start When You're Ready
There are three intakes per year, so you can begin the program in the fall, spring, or summer, according to your own schedule and needs.
Looking to earn your degree as quickly as possible?
If you take three courses per semester, it's possible to complete this degree in just two to three years.
Looking to fit your degree around a busy life?
Alternately, you can take your time and complete courses at your own pace. Many students take just one or two courses per semester.
Lay the Foundation for Success through the 100% Online Residency
During the required virtual residency, you will connect with your colleagues and immerse yourself in the first core course in the program, Team Performance. The three-day residency experience is 100% online, and the only time we will require you to be present for synchronous sessions during the day.
Learn more about the residency experience.
Study with a Trusted Leader in Online Education
Penn State has more than 100 years of experience in distance education and more than two decades of experience in online education. Our online learning environment offers you the same quality education our resident students experience in a face-to-face setting.
Benefit from Partnering with Smeal College of Business
Thinking about advancing in your current position or beginning a new career path? You should consider networking opportunities and career resources when selecting your MBA program. At Penn State, you can receive:
specialized career coaching
personal advising
access to global immersion trips
additional networking opportunities
Learn more about the Penn State Smeal Advantage.
Information for Military and Veterans
Are you a member of the military, a veteran, or a military spouse? Please visit our military website for additional information regarding financial aid, transfer credits, or application instructions.
Costs and Financial Aid
Graduate Tuition
Graduate tuition is calculated based on the number of credits for which you register. Tuition is due shortly after each semester begins and rates are assessed every semester of enrollment.
2023–24 Academic Year Rates

Tuition rates for the fall 2023, spring 2024, and summer 2024 semesters.

| How many credits do you plan to take per semester? | Cost |
| --- | --- |
| 11 or fewer | $1,248 per credit |
| 12 or more | $14,980 per semester |
2024–25 Academic Year Rates

Tuition rates for the fall 2024, spring 2025, and summer 2025 semesters.

| How many credits do you plan to take per semester? | Cost |
| --- | --- |
| 11 or fewer | $1,260 per credit |
| 12 or more | $15,130 per semester |
*If you are planning to take 12 or more credits in one semester, you must first schedule a consultation with your academic advisor and the program's faculty chair.
Paying for Your MBA Education
Penn State offers many ways to pay for your education, including an installment plan and third-party payments. Additionally, World Campus offers an Employer Reimbursement and Tuition Deferment program. Please visit the Paying Your Semester Bill page of our student website for more details.
Financial Aid and Military Benefits
How to Apply
Deadlines and Important Dates
Summer Deadline

: 

Apply by March 15 to start May 7

Fall Deadline

: 

Apply by May 15 to start August 13

Spring Deadline

: 

Apply by November 1, 2024, to start January 13, 2025
We strongly encourage applicants to aim for the posted deadlines for the best chance of securing a spot in their intake of choice. We will, however, continue to review applications and admit candidates on a rolling basis after the deadlines, as long as space is available.
Applicants are encouraged to submit all portfolio items as early as possible. Please review the dates of your preferred starting semester's required virtual residency to ensure your availability.
Our Typical Student 
Penn State Online MBA students come from a variety of backgrounds. If you're curious what types of qualifications our applicants usually have, take a look at these student body profile statistics (numbers are averages):
Work Experience: 7–10 years post-undergraduate full-time work experience
Undergraduate Cumulative GPA: 3.3
Percentage of Women: 34%
Percentage of Military and Veteran: 20%
States Represented: 30+
Admissions Requirements 
For admission to the Graduate School, an applicant must hold either (1) a baccalaureate degree from a regionally accredited U.S. institution or (2) a tertiary (postsecondary) degree that is deemed comparable to a four-year bachelor's degree from a regionally accredited U.S. institution. This degree must be from an officially recognized degree-granting institution in the country in which it operates.
The Penn State Online MBA is suitable for individuals of diverse academic and professional backgrounds and requires no prerequisite course work. However, previous course work in accounting, economics, math, and statistics, or knowledge of these subjects gained through work experience, adds to the strength of your application portfolio. Additionally, post-undergraduate, full-time work experience is strongly recommended and preferred. Course success will rely heavily on the ability to apply real-world experience to academic concepts and teamwork.
What You Need
Applications are submitted electronically and include a nonrefundable application fee. Applicants who are U.S. military (active duty or veteran) qualify for an application fee waiver. Please contact us, noting branch of service, at [email protected] to request the code. You will need to upload the following items as part of your application:
Official transcripts from each institution attended, regardless of the number of credits or semesters completed — Transcripts not in English must be accompanied by a certified translation. Penn State alumni do not need to request transcripts for credits earned at Penn State but must list Penn State as part of your academic history. If you are admitted, you will be asked to send an additional official transcript. You will receive instructions at that time.
GRE/GMAT scores are not required and will not be accepted.
English Proficiency — The language of instruction at Penn State is English. With some exceptions, international applicants must take and submit scores for the Test of English as a Foreign Language (TOEFL) or International English Language Testing System (IELTS). Minimum test scores and exceptions are found in the English Proficiency section on the Graduate School's "Requirements for Graduate Admission" page. Visit the TOEFL website for testing information. Penn State's institutional code is 2660.
References (2) — You will need to initiate the process through the online application by entering names, email addresses, and mailing addresses of two professional and/or academic references. If you have professional full-time work experience (highly recommended), professional recommendations are strongly preferred over academic recommendations, with additional preference for one from a current or previous supervisor. Please do not provide references from family members or friends. Upon submission of your application, an email will be sent to each reference requesting they complete a brief online recommendation regarding your commitment for success in an online program. Please inform all recommenders they must submit the form in order for your application to be complete.  
Program-Specific Questions/Materials
Résumé — You will upload your résumé (one to two pages) to the online application. A minimum of two years of professional experience is strongly preferred, with emphasis on post-undergraduate, full-time work experience. Internships and other experiences will be considered holistically but are not considered as part of the work experience minimum recommendation.
Essay Response — Submit one document with your answers to short-answer essay questions (50–100 words each) to allow the admissions committee to get to know more about you and to differentiate yourself from the competition. You should respond to these prompts:
What unique contribution can you offer in a team-based, collaborative online MBA program?
What is the most difficult constructive criticism you ever received and how did you act on it? Please provide a specific example.
Is there anything else that you'd like us to know that we can't see anywhere else in your application?
How do you define grit? Provide a specific example of a time you demonstrated grit.
Online Interview — For the purpose of ensuring a good fit between the program and the student, the committee may want to gather additional information from the applicant not available in the written application materials. An online interview may be requested by the admissions committee on a case-by-case basis.
Start Your Application
You can begin your online application at any time. Your progress within the online application system will be saved as you go, allowing you to return at any point as you gather additional information and required materials. Your admission will be considered once your application portfolio is complete.
Begin the graduate school application
Choose Enrollment Type: "Degree Admission"
Choose "WORLD CAMPUS" as the campus
Checking Your Status
You can check the status of your application by using the same login information established for the online application form.
Technical Requirements 
A computer is required for this program. You must have administrator rights on the machine that enables you to install new software. While our core courses are designed to operate using either Windows or iOS, concentration courses may require software that is compatible only with Windows. Please contact the program office at [email protected] for more information about specific concentration requirements.
Please review the other technical requirements for this degree program.
Get the resources you need to make informed decisions about your education. Request information on this program and other programs of interest by completing this form.
Ready to take the next step toward your Penn State master's degree?
Start or Advance Your Career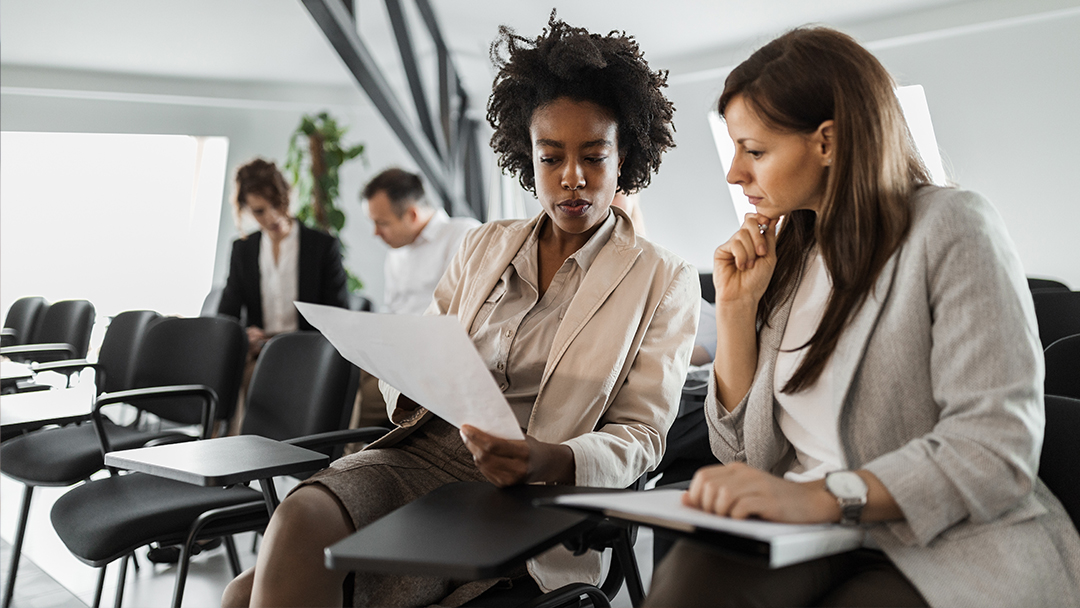 You can use the knowledge gained from this program and the support of Penn State career resources to pursue careers in a variety of fields, depending on your goals.
Earn a Valuable Credential along the Way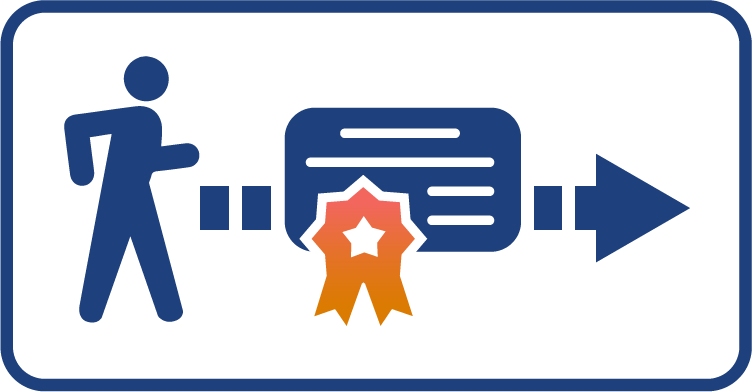 Show mastery of specific subjects before your degree is complete. Thanks to shared courses across programs, students can often earn a certificate along with their degree in less time than if they earned them separately.
Residency Experiences
Penn State Online MBA students have the opportunity to gain real world experience thanks to an immersive residency experience.
Frequently Asked Questions
You can learn more about the application process, residency, and what our courses are like right now.
Contact Us
Learn more about the Penn State online Master of Business Administration led by Smeal College of Business. This program operates in partnership with the Black School of Business at Penn State Behrend, Penn State Great Valley School of Graduate Professional Studies, and Penn State Harrisburg School of Business Administration.
For general questions, contact:
World Campus Admissions Counselors
Phone: 814-863-5386
[email protected]
For questions about the program or your submitted application, contact:
Tasha Burman Prodromidis
Administrative Assistant, Professional Graduate Programs and Online MBA
The Smeal College of Business
Phone: 814-863-0474
[email protected]
Lead Faculty
Janet Duck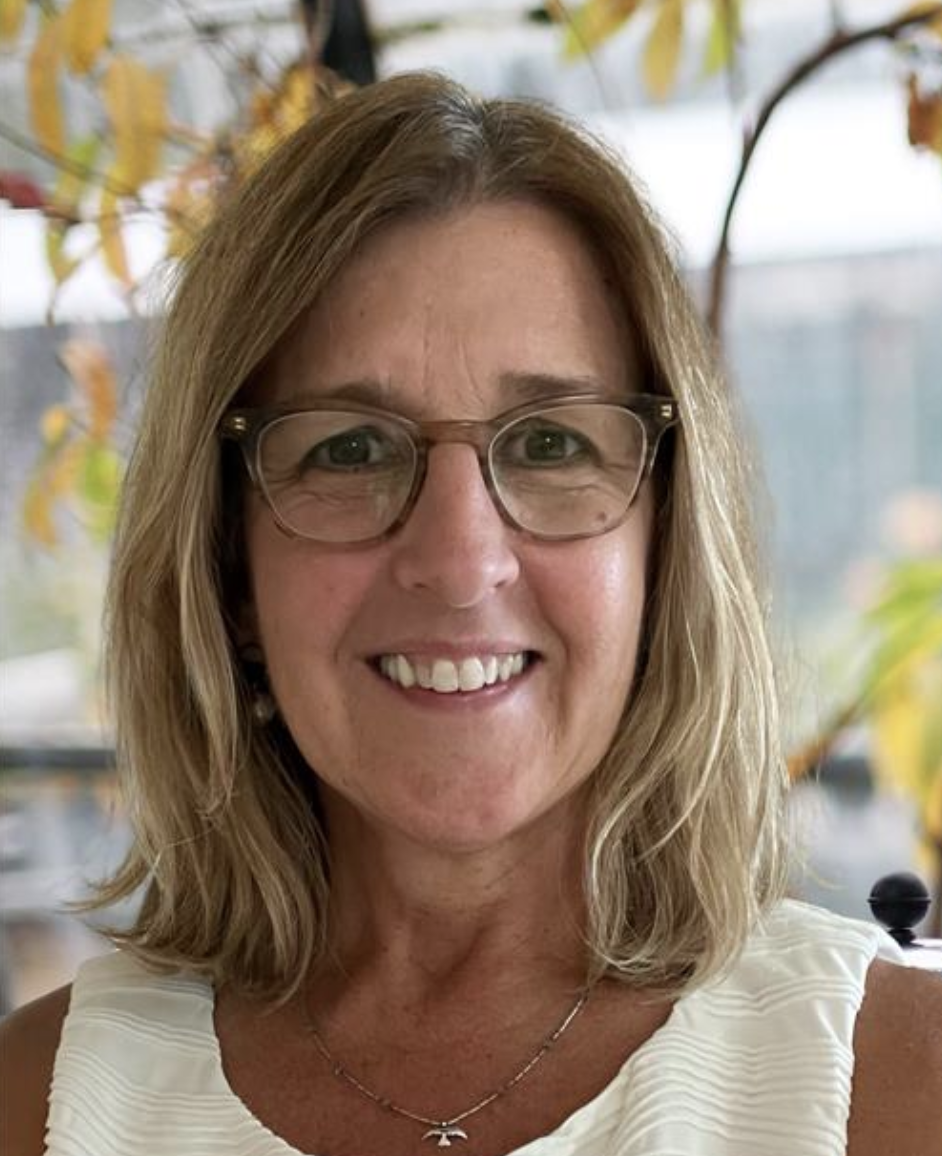 Faculty Chair, Online MBA
Ph.D., Workforce Development, Penn State

MBA, Lebanon Valley College

B.S., Business Administration, Slippery Rock University
Dr. Janet Duck has more than 15 years of teaching, authoring, and designing experience in online graduate environments. She teaches courses in organizational change management, leadership communication, organizational development and intervention, and team performance. Additionally, Dr. Duck serves as the faculty lead for the Professional Graduate Portfolio (PGP) at the Smeal College of Business, where she facilitates data-driven course design for the graduate business population. She has received the Outstanding Faculty award for the iMBA. She has more than 15 years of industry experience in organizational change and development in both domestic and international markets. Dr. Duck's work in online teaching has been highlighted in The New York Times and Delta Sky Magazine.
Program Faculty
Nihal Bayraktar

Ph.D., Economics, University of Maryland, College Park

B.A., Economics, Boğaziçi University, Turkey

Dr. Nihal Bayraktar is a professor of economics at Penn State Harrisburg. Her basic research interests are in development economics, public finance, microeconomic foundations of macroeconomics, applied economics, and modeling. She works on problems related to fixed investment behavior of firms, public capital spending, taxation, monetary policies, inflation, growth, poverty, gender gap, banking sector, and financial markets. Her teaching interests include microeconomic analyses, macroeconomic analyses, money and banking, business analytics, business statistics, international financial markets, public finance, and managerial economics.

John Cameron

J.D., Widener University School of Law

LLM, Corporation Law, New York University School of Law

B.A., University of Pittsburgh

John C. Cameron, associate professor of management and organization, held corporate positions in health care administration and corporate law. He is admitted to practice law in Pennsylvania, Maryland, and New Jersey. Currently he serves as the co-chair of the Pennsylvania Bar Association Health Care Law Committee. Mr. Cameron teaches courses in leadership development, business ethics, bioscience management and negotiations. His research interests are in the areas of corporate governance, bioethics, leadership, and regulatory compliance.

Shawn Clark

Ph.D., Business Administration, Penn State

Master of Organizational Behavior, Brigham Young University

B.S., Brigham Young University

Dr. Shawn Clark is director of the Farrell Center for Corporate Innovation and Entrepreneurship and a clinical professor of innovation and entrepreneurship in the Smeal College of Business. He teaches courses in corporate innovation, entrepreneurship, business planning, strategic management, enterprise modeling, project management, and business transformation consulting. His research focuses on business architecture modeling, corporate innovation, global prescience, enterprise transparency, and the strategic alignment of business and information technology.

Ashutosh Deshmukh

Ph.D., Accounting, University of Memphis

MBA, Finance, University of Alabama

DCM, Computer Programming, University of Mumbai

B.S., Chemistry, University of Mumbai

Professional Certifications: CPA, ACA, CFE, CMA, CISE

Dr. Ashutosh Deshmukh is a professor of accounting and MIS at Penn State Behrend. He holds certification in public accounting, information systems auditing, management accounting, and fraud examination, and he has served as an expert witness in the U.S. House of Representatives, estimating the potential for fraud, waste, and abuse of grant money awarded over a five-year period by the U.S. EPA. He has published more than 40 papers and presented at more than 50 conferences. He is also the associate editor of the International Journal of Accounting, Auditing, and Performance Evaluation and the author of the book Digital Accounting: The Effects of the Internet and ERP on Accounting. 

Chelsea Hammond

Ph.D., Communication Science, University of Connecticut

M.L.S., Southern Connecticut State University

B.A., English, Philosophy, University of Connecticut

Dr. Chelsea Hammond is an assistant clinical professor of marketing and program director of the online marketing analytics certificate. Prior to joining the Penn State Smeal College of Business, she spent more than a decade in the market research and marketing analytics industry, where she helped the world's most iconic and well-known brands leverage data to drive business success.

William H. A. Johnson

Ph.D., Operations and Strategic Management, Schulich School of Business, York University (Canada)

MBA, Operations Management, Schulich School of Business, York University (Canada)

B.A., Economics, York University (Canada)

B.S., Biological Sciences, McMaster University (Canada)

Dr. William H. A. Johnson is an associate professor of management at Penn State. His research and teaching interests include innovation, strategy, and international management. His research is published in high-quality innovation-based journals including Research Policy, IEEE Transactions on Engineering Management, Technovation, Journal of Business Research, Research-Technology Management, International Journal of Technology Management, Journal of International Management, Journal of Intellectual Capital, Engineering Management Journal, and Entrepreneurship: Theory and Practice, among others. He has authored several practitioner-oriented books on developing a competitive global strategy at Routledge (Managing Global Strategy: Developing an Effective Strategy in International Business), the push toward an innovation economy by the Chinese at BEP (Innovation in China: The Tail of the Dragon) and creating effective project-based strategies, also at BEP (Project Strategy and Strategic Portfolio Management).

David Morand

Ph.D., Organizational Behavior, Cornell University

M.A., Industrial and Labor Relations, Indiana University of Pennsylvania

B.A., Humanism and Cultural Change, University of Wisconsin

Dr. David Morand is a professor of management at Penn State Harrisburg. He teaches courses in organizational behavior, human resource management, and labor relations. His research interests include power and influence in organizational interaction, formal/informal social environments in organizations, cross-cultural communication, and labor law. His research has been cited prominently in the media, including such business media as the Wall Street Journal, Investor's Business Daily, New York Times, Times of London, Chicago Tribune, Business Week Magazine, and Psychology Today.

Sourish Sarkar

Ph.D., Industrial and Systems Engineering, Virginia Tech

M.S., Industrial and Systems Engineering, Virginia Tech

B.E., Mechanical Engineering, Jadavpur University

Dr. Sourish Sarkar is an associate professor of operations and supply chain management. He teaches supply chain management and operations planning (using SAP) for MBA and undergraduate students. Dr. Sarkar's research interests are inventory and supply chain management and behavioral operations. His research has appeared in the International Journal of Production Economics, International Journal of Production Research, and International Journal of Physical Distribution & Logistics Management.

Sagnika Sen

Ph.D., Arizona State University

Dr. Sagnika Sen is an associate professor of information systems at Penn State Great Valley. Her research focuses on process performance, metrics, and incentive design in organizations. She has published in top academic journals in the field of information systems, such as Information Systems Research and Journal of Management Information Systems. Dr. Sen teaches courses in management information systems, business process management, and business statistics.

Dale Watson

Ph.D., Business Administration, University of Connecticut

M.A., Strategy, U.S. Army War College

M.S., Administration, Central Michigan University

B.S., Business Management, West Chester University

Dale Watson, Ph.D., Colonel (U.S. Army, Retired), is an assistant teaching professor at the Penn State Harrisburg School of Business. A career Army Aviator and former Chairman of the Department of Command, Leadership, and Management at the United States Army War College, Dr. Watson has served at multiple levels of command, including multinational headquarters assignments overseas. His research interests include multi-team systems, team adaptation, team resiliency, organizational change, and leadership. Dr. Watson blends academic foundations with a practitioner's view of organizational phenomena to better understand these complex environments.

Suzanne A. Wright

MBA, Supply Chain, Penn State

B.S., Accounting, Penn State

Certified Public Accountant

Suzanne A. Wright enhances her teaching with practical experience in managerial and financial accounting and various areas of supply chain. She thoroughly enjoys teaching Accounting Systems and Control and Intermediate and Advanced Financial Accounting. She has been involved in Smeal Sustainability for twenty years and is past chair of the education group of the Center for the Business of Sustainability. Suzanne taught two summer programs in China and three-week courses on sustainability and technology at Pforzheim University in Germany.
Penn State Smeal Advantage
More options, greater flexibility and a commitment to lifelong learning
The desire for knowledge and professional growth spans a lifetime. That is why the Penn State Smeal College of Business offers a portfolio of professional graduate programs for all stages of your career. In partnership with Penn State World Campus, Smeal makes it easy to customize a learning plan to your unique career aspirations and busy schedule. Penn State Smeal offers you a lifetime of learning with more concentrations and one of the most integrated, flexible offerings of online and residential programs in the United States.
An entire team dedicated to your success
Personal advising — Our experts will explain the many options that Penn State Smeal offers and will help you refine your career strategy and craft the educational experience best suited to your interests. It all starts with a simple, but critical question: "What are your goals?" 
Career coaching* — Our Alumni Career Services team will support you across all career stages with professional advancement opportunities and coaching to help you stay focused on achieving your goals.
Delivering the best of online and in-person learning for a rich educational experience
We understand that today's professional learners want meaningful discussion and interaction with faculty and classmates along with the technologies and flexible approaches of contemporary online learning. By aligning the best of both worlds, we bring richness, depth, and diversity to the overall educational experience.
Courses designed to engage and motivate the professional student
Creative Teams consisting of a lead faculty member, a Teaching Support Specialist (TSS), and an Instructional Designer use advanced analytics to develop and deliver contemporary graduate courses that promote application and engagement. We strive to innovate in ways that others don't. 
A real-world perspective
Industry professionals inside the virtual classroom — Many of Penn State Smeal's courses feature industry professionals who have been in the trenches and work hard to make an impact every day. These individuals, most of whom hold a Smeal graduate degree, partner with our renowned faculty to provide a rich academic context with real-world application.
Global immersion* — This unique, optional experience will enhance your ability to communicate cross-culturally, adapt to evolving business environments, and manage the risks and benefits of operating on a global scale. Any student pursing a full degree from Smeal may participate in this optional, faculty-led experience for elective credit. Previous destinations have included Shanghai, China; Johannesburg, South Africa; Prague, Czech Republic; Santiago, Chile; and Zagreb, Croatia.
One of the largest and most influential networks in the country
At Penn State, you are part of a worldwide community of instructors, learners, and more than 750,000 alumni who support one another and make a meaningful impact. 
More than 90,000 Smeal alumni benefit from connections around the globe as well as networking events, podcasts, webinars, a powerful LinkedIn community, and opportunities for volunteerism.
Impact Smeal Day — This day provides alumni and professional graduate students with the opportunity to come to campus and interact with current students, network with other alumni, gain professional insights, and hear about college initiatives. The day is designed so that you can sign up for the sessions that work for your schedule.
* Services are available only to students and alumni of Penn State Smeal's degree programs and online degrees led by Smeal and delivered through the World Campus. Students and alumni of online graduate certificates are not eligible to receive these benefits unless they are also enrolled in a degree program.
Ready to take the next step toward your Penn State master's degree?