Application deadline
Apply by
March
15
to start

May 13
Credits and costs
123
Credits
$626/$671
per credit
Nationally Recognized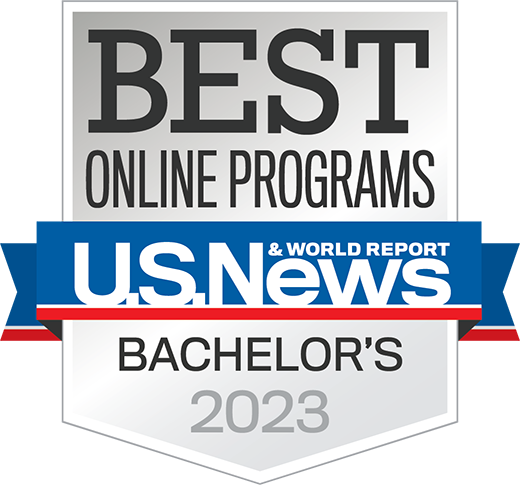 Our bachelor's degrees are highly ranked by U.S. News & World Report.
Prepare for Advancement with an Online Bachelor's in Organizational Leadership
A rapidly growing global environment creates demand for professionals who are schooled in leadership. Employers look for individuals who exhibit strengths in problem-solving, teamwork, critical thinking, sound judgment and decision-making, listening, and conflict management.
Penn State's Bachelor of Arts in Organizational Leadership focuses on contemporary labor management and supervisory leadership issues. This fully online program draws on the disciplines of the liberal arts, business, and sciences so that you can bring a broad and global perspective to the exercise of leadership. As a student, you can:
explore a leader's role and function within contemporary organizations
study the supervisory and managerial behaviors of successful leaders
learn how an organization's internal structure impacts employee performance
identify strategies for overcoming conflict and obstacles in the workplace
understand how leaders exercise influence in social groups and teams
Why Study Leadership Online at Penn State?
100% Online for Maximum Flexibility — Online courses are designed for working adults and provide you with the flexibility and convenience to study around your schedule. You have the option to study part-time or full-time, and you can even set your own pace by creating a customized path to completion.
Nationally Recognized — This top-ranked program is taught by highly regarded faculty from Penn State's College of the Liberal Arts, one of the premier institutions in the world to study and work in the liberal arts disciplines.
Practical Skills and Social Intelligence — Develop career-ready skills as you learn to manage and nurture business and professional relationships through motivational strategies, conflict management, and other forms of interpersonal and social influence.
Military-Friendly — The program may grant credit for military training courses, so you can get a head start on your degree.
A Degree to Meet Your Needs: B.A. or B.S.
While both degree programs include most of the same required leadership courses, the Bachelor of Arts in Organizational Leadership takes a more humanistic approach by integrating additional course work in the social sciences, humanities, and language. Additionally, the curriculum's enhanced flexibility is ideal for students who hope to leverage previously earned college credit to complete their degree faster and/or individuals who already possess some leadership experience.
If you have a more quantitative mindset, appreciate research and analysis, and/or have no leadership (or supervisory) experience, you might prefer the social-scientific approach and additional leadership course work required in our Bachelor of Science in Organizational Leadership.
Who Should Apply?
This 100% online degree program is appealing to professionals and students with a variety of backgrounds, particularly if you:
occupy a managerial/leadership position but must obtain a degree for further professional advancement
have faced challenges starting or completing your college education due to life circumstances or geographical constraints
are an active-duty soldier or veteran looking to advance in the military ranks or transition into civilian life
Talk to an Organizational Leadership Graduate 
If you would like to speak to a graduate of the program, complete this form to be connected with an Alumni Ambassador. These alumni have offered to answer specific questions about the student experience and discuss any concerns you may be having before you apply.
Courses
In addition to required courses in organizational leadership, you will also choose from courses in communication arts and sciences; crime, law, and justice; labor and employment relations; management; philosophy; political science; psychology; and sociology.
This program requires that you complete a minimum of 123 credits.
A student enrolled in this major must receive a grade of C or better in all courses required for the major.
Prescribed Courses (21 credits)
Additional Courses (12 credits)
Select one course from each area.
Critical Thinking (select 3 credits)
Organizational Behavior (select 3 credits)
Conflict Management (select 3 credits)
Ethics (select 3 credits)
Supporting Courses and Related Areas (select 3–4 credits)
Select 3–4 credits at the 400-level from the following list of courses. Courses that are used in the Additional Courses category may not be double-counted to satisfy this requirement.
Or any 400-level course from:
ACCTG, AFAM, AFR, AGBM, AMST, ANTH, ASIA, BA, BBH, BLAW, CAS, CEDEV, COMM, CRIM, CRIMJ, ECON, EDUC, ENTR, FIN, FR, GER, HIST, HDFS, HLS, HPA, IB, IST, IT, LA, LAS, LAWSC, LHR, MATH, MGMT, MIS, MKTG, OLEAD, PHIL, PLSC, PSYCH, PUBPL, RUS, SCM, SOC, SPAN, STAT, WMNST
Bachelor of Arts Degree Requirements
Some Bachelor of Arts requirements may be satisfied by courses required for the major, General Education courses, or electives. Students should work with an adviser to select courses.
Foreign Language: 0–12 credits
Student must attain 12th credit level of proficiency in one foreign language.
B.A. Fields: 9 credits
Humanities, Social and Behavioral Sciences, Arts, Foreign Languages, Natural Sciences, Quantification (cannot be taken in the area of the student's primary major; foreign language credits in this category must be in a second foreign language or beyond the 12th credit level of proficiency in the first language)
Other Cultures: 0–3 credits
Select 3 credits from approved list. Students may count courses in this category in order to meet other major, minor, elective, or General Education requirements, except for the General Education US/IL requirement.​
General Education Requirements
Some General Education requirements may be satisfied by courses required for the major. Students should work with an adviser to select courses.
Foundations: 15 credits  
All courses require a grade of C or better. Inter-Domain courses may not be used for foundations requirements. 

Writing/Speaking: 9 credits 
Quantification: 6 credits 
3-6 credits are selected from mathematics, applied mathematics, and statistics; 3 credits may be selected from computer science or symbolic logic. 

Knowledge Domains: 15 credits  
Inter-Domain courses may not be used for knowledge domain requirements.

Health and Wellness (GHW): 3 credits 
Natural Sciences (GN): 3 credits 
Arts (GA): 3 credits 
Humanities (GH): 3 credits 
Social and Behavioral Sciences (GS): 3 credits  

Integrative Studies: 6 credits

Inter-Domain course work: 6 credits  

Exploration: 9 credits 

Natural Sciences (GN) (may be Inter-Domain): 3 credits
GA, GH, GN, GS, and Inter-Domain courses: 6 credits  
May include 3 credits of World Language course work beyond the requirements of the student's degree program or at the 12th credit level, whichever is higher.
These General Education Requirements are for students who started in summer 2023 or later. Students who started earlier can review the prior version of the general education requirements. 
Elective Courses (select 18-24 credits)
Among the degree requirements, students should incorporate at least:
3 credits in U.S. cultures
3 credits in international (IL) cultures
3 credits in writing-across-the-curriculum courses
The course list includes only courses offered by World Campus. An official degree audit or the recommended academic plan for this program may include additional course options and detailed requirements. All students are expected to complete at least 36 Penn State credits to earn this degree. Please consult an academic adviser for details.
Costs and Financial Aid
Undergraduate Tuition
Undergraduate tuition is calculated based on the number of credits for which you register and the number of total credits you have accrued at or transferred to Penn State.
Tuition is due shortly after each semester begins and rates are assessed every semester of enrollment.
2023–24 Academic Year Rates

Tuition rates for the fall 2023, spring 2024, and summer 2024 semesters.

| How many credits do you plan to take per semester? | If you have 59 or fewer credits | If you have 60 or more credits |
| --- | --- | --- |
| 11 or fewer | $626 per credit | $671 per credit |
| 12–19 | $7,602 per semester | $8,206 per semester |
Undergraduate students taking more than 19 credits will be charged the flat tuition rate plus the regular per credit hour rate for each credit above 19. 
2024–25 Academic Year Rates

Tuition rates for the fall 2024, spring 2025, and summer 2025 semesters.

| How many credits do you plan to take per semester? | If you have 59 or fewer credits | If you have 60 or more credits |
| --- | --- | --- |
| 11 or fewer | $632 per credit | $678 per credit |
| 12–19 | $7,678 per semester | $8,288 per semester |
Undergraduate students taking more than 19 credits will be charged the flat tuition rate plus the regular per credit hour rate for each credit above 19. 
Financial Aid and Military Benefits
How to Apply
Deadlines and Important Dates
Your degree application, including receipt of all transcripts, must be received by the following deadlines to be considered complete.
Summer Deadline

: 

Apply by March 15 to start May 13

Fall Deadline

: 

Apply by June 30 to start August 26

Spring Deadline

: 

Apply by October 31, 2024, to start January 13, 2025
New students are encouraged to complete the FAFSA by March 1. Please visit the Office of Student Aid website for more information about applying for financial aid and recommended deadlines.
Admissions Help
Thank you for your interest in applying to this program. Contact an admissions counselor to discuss your educational goals, financial aid options, and application deadlines.
Admission Requirements
To apply for this program, you must be a high school graduate, or have completed your GED. 
What You Need
Applications are submitted electronically and include a nonrefundable application fee. You will need the following items to complete your application:
High school transcripts or GED transcript - First-year applicants are required to submit Self-Reported Academic Records (SRAR). Official high school transcripts will only be required at the time a student accepts an offer of admission to Penn State.
Official college or university transcripts, if you attended another institution, and/or official military transcripts (if applicable). (All college or university transcripts are required regardless of the length of time that has passed, the grades earned, or the accreditation of the institutions attended. Acceptance of transfer credit toward your degree is subject to final approval by the academic department. For detailed information, see the Transfer Students page.)
Transcripts not in English must be accompanied by a certified translation. Please send your transcripts by mail or electronically through Parchment, eScrip-Safe, or the National Student Clearinghouse directly to Penn State from the college/university where coursework was attempted.
Submit official documents by mail to:
Undergraduate Admissions Office
The Pennsylvania State University
201 Shields Building
University Park PA 16802
English Proficiency — The language of instruction at Penn State is English. With some exceptions, international applicants must take and submit scores for the Test of English as a Foreign Language (TOEFL) or International English Language Testing System (IELTS). Minimum test scores and exceptions are found in the English Language Proficiency section on the Undergraduate Admissions International Requirements page. Visit the TOEFL website for testing information. Penn State's institutional code is 2660.
Start Your Application
Former Penn State students may not need to complete the admissions application. Please visit our Returning Students page for instructions. 
If this is your first time applying to Penn State, you'll need to complete the following steps:
Review the application instructions before beginning.
Complete the online application and submit all official documents.
Pay the application fee.
Checking Your Status
You can check the status of your application by using the same login information established for the online application form and choosing "MyPennState — Check Application Status." Your decision letter (confirming your acceptance or denial) will be mailed four to six weeks after receipt of all application materials. An admissions counselor will contact you if additional information is required.
Technical Requirements 
Review the technical requirements for this degree program.
Get the resources you need to make informed decisions about your education. Request information on this program and other programs of interest by completing this form.
Ready to take the next step toward your Penn State bachelor's degree?
Start or Advance Your Career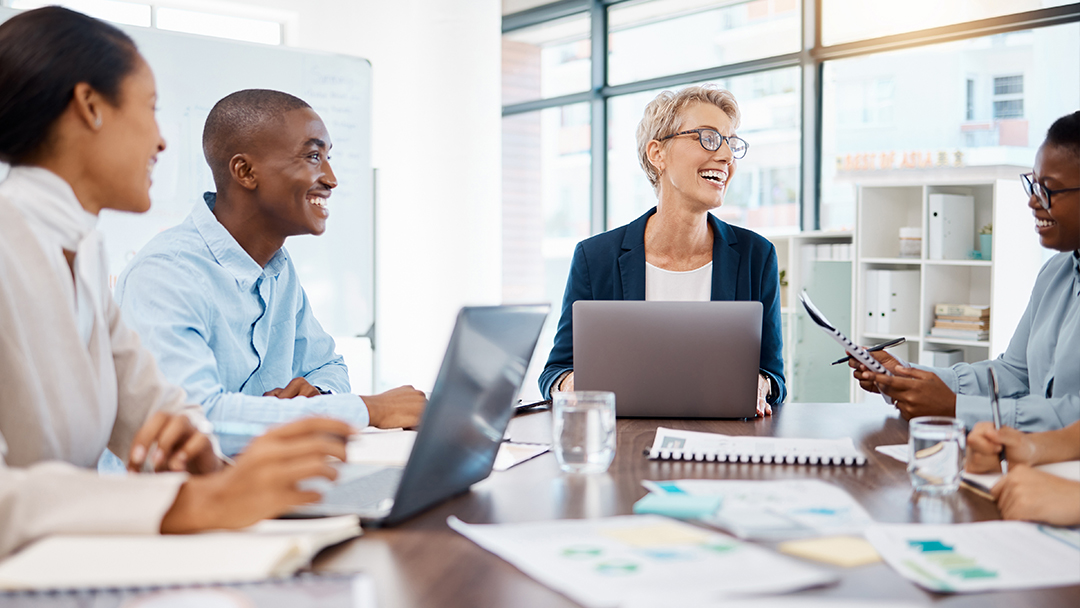 You can use the knowledge gained from this program and the support of Penn State career resources to pursue careers in a variety of fields, depending on your goals.
Contact Us
To learn more about the Bachelor of Arts in Organizational Leadership, offered in partnership with the Penn State College of the Liberal Arts, please contact:
World Campus Admissions Counselors
Phone: 814-863-5386
Email: [email protected]
School Director
Elaine Farndale
Director, School of Labor and Employment Relations
Ph.D., Cranfield University of Management, United Kingdom

M.A., Personnel Management, Kingston University, United Kingdom

B.A., French and Modern Dutch Studies, University of Hull, United Kingdom
Dr. Elaine Farndale ​is director of the School of Labor and Employment Relations and a professor of human resource management. Dr. Farndale's areas of specialization and research include international and comparative human resource management (HRM); the power, professionalism, and roles of the HR department; HRM and firm performance; change management and HRM; eHRM and new HR delivery mechanisms; and HRM and employee engagement. She has presented numerous papers at international conferences and has published articles and chapters in both the practitioner and academic press. Dr. Farndale has also worked as an HR specialist for several years.
Lead Faculty
Brian Redmond
Ph.D., I/O Psychology, Graduate Center, City University of New York

M.A., I/O Psychology, New York University

B.A., Psychology, Castleton State University
Dr. Brian Redmond is a teaching professor and the lead faculty for labor and human resources and organizational leadership. He worked in several organizations (manufacturing, financial, education, management, and service) before deciding that education was his true calling. He still performs organizational consulting, specifically in the realms of leadership, organizational behavior, and online education. Dr. Redmond teaches and authors courses in leadership that span the undergraduate, graduate, and professional levels. He has been teaching online since 2004. He has published and presented research and applied solutions regarding online education since 2003.
Faculty
Carol Cameron

Ph.D., Organization and Management, Capella University

MBA, Organizational Behavior, Westminster College

Dr. Carol Cameron has been a corporate leadership and organization development consultant for more than 20 years, working with a range of organizations, from Fortune 500 companies to entrepreneurial start-ups in industries that include health care, financial services, high tech, and more. She transitioned to the academic arena in 2012, joining Harvard University as an internal consultant and executive coach to its deans and department administrators, and leading curriculum design and facilitation efforts for executive education in Harvard's Center for Workplace Development.

Donna J. Dennis

Ph.D., Human Development, Fielding Graduate University

M.S., Master of Education, University of Illinois

B.S., Elementary Education, University of Illinois

Dr. Donna J. Dennis has worked as the vice president of company-wide talent management, designed leadership training, provided strategic planning and coaching programs, and provided executive development services, such as the facilitation of programs and identification of leadership and career development resources. Donna developed and facilitated the succession planning process for executive development at C.R. Bard, Inc. She also taught at the Wharton Business School and the University of Pennsylvania. Since launching Leadership Solutions Consulting, LLC, she has earned certification in executive coaching.

Michael Hamel

Ph.D., Applied Psychology, Southern Illinois University-Carbondale

M.S., Applied Psychology, Shippensburg University

B.S., Biopsychology, Penn State

Dr. Michael Hamel has worked for more than a decade as an organizational consultant in both private and public industry, including the USAF, to evaluate and enhance their force-wide suicide prevention program. In his career, he has served as an instructor for research methods and statistics, organizational psychology, and I/O psychology. He serves as the evaluation director for Penn State Extension, leading a team of evaluation specialists in providing support for a multitude of educational programming initiatives.

Carmen Jones

Ph.D., Organizational Leadership, Argosy University

MBA, Point Park University

M.S., Project Management, Keller Graduate School of Management

B.S., Point Park University

Dr. Carmen Jones has held increasingly responsible positions with a major telecommunications company, providing business leadership in customer service, training and development, and upper management. She also uses her business expertise to work with a major health insurance company in its short-term disability division. Her research interests center on improving the understanding and performance of call center employees and their perceptions of motivation.

Douglas Lindsay

Ph.D., Industrial/Organizational Psychology, Penn State

M.S., Experimental Psychology, University of Texas at San Antonio

B.S., Behavioral Sciences, United States Air Force Academy

Dr. Douglas Lindsay served for more than 22 years in the Air Force, where he held various roles such as scientist, professor, psychologist, and director. Since leaving the military, he has worked for several higher education institutions, businesses, and consulting organizations, developing leadership programs and educational courses focused on executive education and development. In addition to his consulting and coaching, he is the executive editor for the Center for Character and Leadership Development at the United States Air Force Academy.

Allison Maurer

Ph.D., I/O Psychology, Saint Louis University

M.S., I/O Psychology, Saint Louis University

B.S., Business Administration, Fontbonne University

Dr. Allison Maurer has extensive experience in both the science and practice of management in the government (e.g., United States Secret Service and Department of Justice) and other business areas (e.g., Panera Bread, March of Dimes, and Badges for Vets). Her current research interests fall broadly into two categories: personnel selection and managerial decision-making. She has also taught a range of management courses at more than seven higher education institutions, including Penn State.

Kim Trahan

Ph.D., Organizational Systems, Saybrook University 

M.S., Counseling and Human Development, University of Rochester 

B.A., Psychology/History, University of Rochester

Dr. Kim Trahan is an assistant teaching professor in organizational leadership. She has spent her career serving as an educator, administrator, career counselor, and consultant. Her work within universities has included teaching online undergraduate leadership courses and working as a career placement administrator, career programming administrator, and career counselor. Her human resources background includes serving as a training and development administrator. Dr. Trahan's interest is in emotional intelligence–based mindfulness approaches to help build leadership capacity.
Ready to take the next step toward your Penn State bachelor's degree?