Integration, Collaboration, and Engagement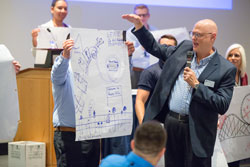 A defining component of the Penn State Online MBA is the required, five-day residency held at University Park, Pennsylvania, at the start of the program. Designed to provide information, introduce resources, and to foster valuable interactions with faculty and student peers, the residency helps to prepare students for a successful, integrative, collaborative, and engaging online learning experience.
During the residency you will be immersed in a team performance class, review key program components including: a core course overview, an introduction to the concentrations, and you will receive technical training on systems you will use as a student. You will also attend workshops outlining resources designed to enhance your online learning experience, including:  student advising services, career management, stress management, alumni relations, networking, and time management. By the end of the residency, you will have already earned credit towards the degree program.
Residency lodging, and meals during the residency are included in your tuition. Transportation to the residency is not included and is the responsibility of the student.
Residency Start Dates
(We strongly recommend that you arrive on Sunday, one day prior to the start of your residency.)
 

| Semester of Matriculation | Residency Dates |
| --- | --- |
| Spring 2018 | January 8–12, 2018 |
| Summer 2018 | May 7–11, 2018 |
| Fall 2018 | August 13 - 17, 2018 |
| Spring 2019 | January 7 - 11, 2019 |
| Summer 2019 | May 6 - 10, 2019 |
| Fall 2019 | August 19 - 23, 2019 |
| Spring 2020 | January 6 - 10, 2020 |
| Summer 2020 | May 11 - 15, 2020 |
| Fall 2020 | August 17 - 21, 2020 |