NASPAA-accredited Public Administration Programming from the Penn State Harrisburg School of Public Affairs 
The MPA program is accredited by the Network of Schools of Public Policy, Affairs, and Administration (NASPAA). NASPAA is the recognized global accreditor of master's degree programs in public policy, affairs, and administration. Their mission is to ensure excellence in education and training for public service and to promote the ideal of public service. 
Mission
The Master of Public Administration program prepares individuals to assume leadership positions in public service careers and strengthens their professional skills to successfully work in government and non-profit organizations.
Goal
The MPA develops ethical and skilled leaders and professionals able to work effectively in an increasingly globalized and diverse world, who are competent as managers and analysts skilled in oral and written communications, and who share a commitment to public service values and democratic processes.
Number of Students
As of the fall semester 2016, there were 325 students enrolled in the MPA program (56 on-campus, 269 online).
Time to Graduation
For the class which began in 2010–2011, 19% graduate within two years, 54% in three years, and 60% in four years.
Employment of Graduates
Graduates of our resident MPA program most often find employment within local or regional government, domestic-oriented nonprofits, and the private sector (non-research). Graduates of the online program are most often employed in national and local/regional government, the private sector, and domestic-oriented nonprofits.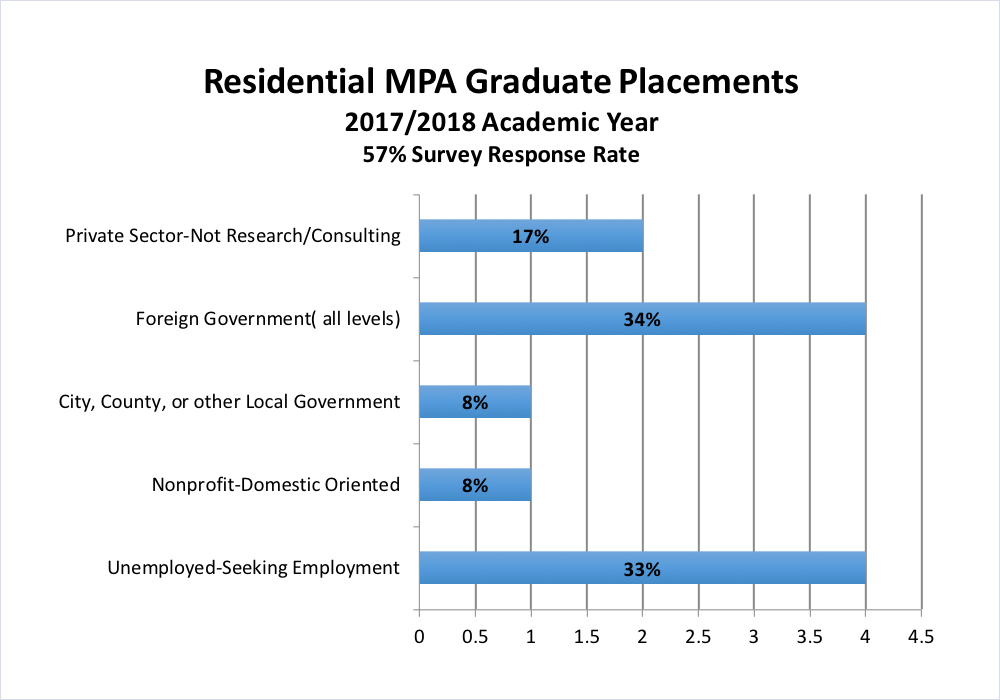 12 respondents out of 21 total residential graduates.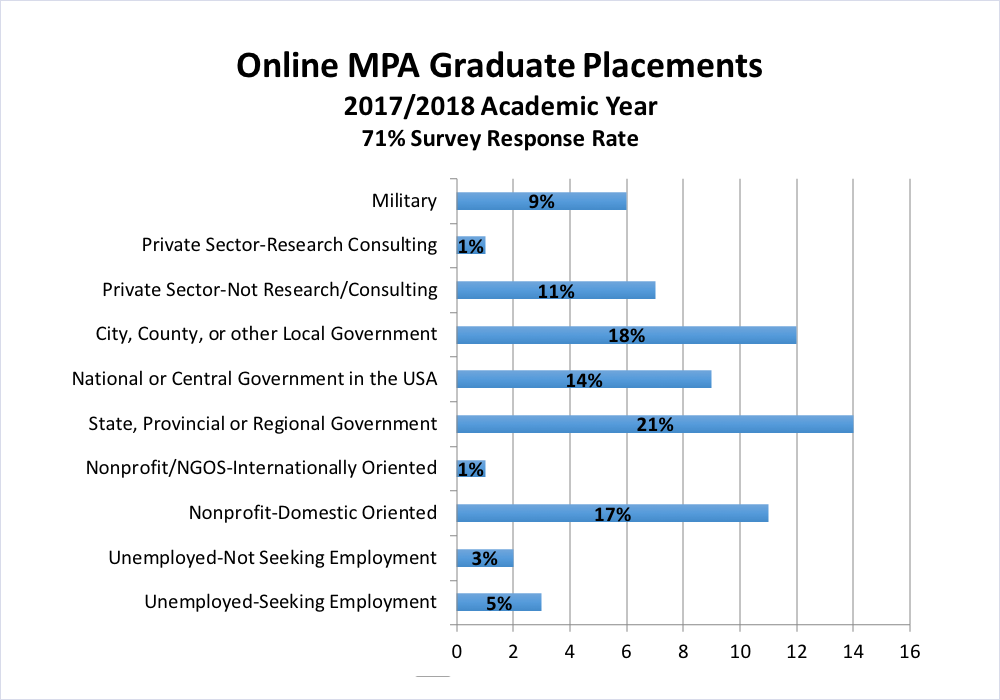 66 respondents out of 93 total online graduates. 
Completion Rates, Academic Year 2012-13

| Status | Residential | Online |
| --- | --- | --- |
| Graduated Students | 87% | 71% |
Internships
Students who do not have two years of relevant employment experience must enroll in P ADM 595: Internship. This course requires 300 hours of service. Examples of our students' internship placements in the past two years include:
City of University Park/Town of Highland Park, Texas
Tompkins County Planning Department, New York
Georgia Shift, Georgia
American Red Cross, Colorado
Department of Defense – Defense Logistics Agency, Pennsylvania
Tioga County Department of Probation and Parole, Pennsylvania