Kelley McKee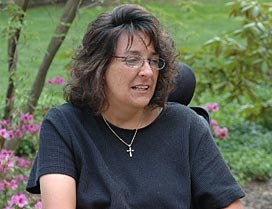 Distance Education has changed my life from tragedy to triumph.
One's path in life has a way of taking unexpected turns. At least that has been the experience of Kelley McKee. During the summer of 1996, she was working as a legal assistant and enjoying family life with her husband and her son. Things seemed set.
She had no idea that at the age of 27 a fall would leave her paralyzed from the neck down, unable to return to work, and struggling with the thought that she may not be able to have any more children.
Yet McKee had an inner strength that would not let an accident dictate her life's path. Now, more than a decade later, she is the proud mom of beautiful twin daughters, and thanks to distance education courses through the World Campus, she is a Penn State graduate.
McKee says that obtaining her degree has been hard work, but that her children make it all worthwhile. "I will be an educated person, setting a good example for them, and having gained the knowledge that can help them in their future endeavors. Penn State distance education made it possible for me to get an education. It has changed my life from tragedy to triumph."
While earning her bachelor's degree in letters, arts, and sciences is an exceptional goal, she doesn't plan to stop there. She would like to obtain a master's degree, and ultimately a doctorate, in clinical psychology so that she can help disabled individuals, particularly women. "I had my twin girls when I was in a wheelchair. I'd like to help other women who are disabled and thinking about planning a family."
We at Penn State are proud to count McKee among our alumni ranks.