Christina Barsness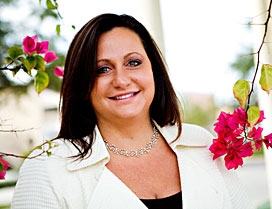 I have never felt such an overwhelming sense of pride and happiness.
Christina Barsness experienced a true sense of accomplishment when Penn State President Graham Spanier greeted her on the stage at commencement. "I have never felt such an overwhelming sense of pride and happiness," she said, describing the day she received her bachelor's degree in letters, arts, and sciences. 
In 2005 Christina decided to further her education while recovering from a near-fatal accident. The World Campus offered a dedicated faculty and an enhanced online educational experience that fit her needs. She chose the liberal arts degree program in letters, arts, and sciences because of its flexibility and choice of courses; the core curriculum could help her acquire dynamic business skills to become a better manager.
During her studies Christina also underwent several surgeries; while recovering, she experienced severe pain and numbness in her limbs. To limit her discomfort, she had to take frequent breaks from her course work — and then complete many assignments in the wee hours of the morning. Recalling those late nights and the words of encouragement from her husband, she added, "I was so determined to complete my degree — I did not want to defer my graduation until my condition improved. It was worth it to me, no matter what I had to put myself through, to graduate in August." By persevering, Christina gained the knowledge to improve her sales, marketing, and managerial techniques — including essential territory planning skills that could enhance her effectiveness as a business leader.
As a Penn State World Campus graduate she feels the most valuable asset of her education is the self-confidence she acquired by completing the program while facing extraordinary health challenges. "Penn State is more than a university. It is an organization of individuals who are dedicated to education and enhancing the quality of life beyond your imagination. With my new degree I know my opportunities are endless."