Yuki Ikeura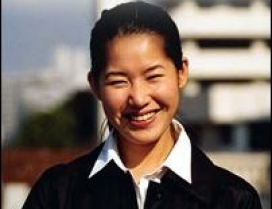 After carefully studying various possible schools in both the United Kingdom and the United States, I chose what I found to be the best, the Penn State World Campus!
Yuki Ikeura, the first international graduate of Penn State's World Campus Letters, Arts, and Sciences bachelor's degree program, shows that it truly is a World Campus. On learning about the World Campus while working at a private school in Hiroshima, Japan, Ms. Ikeura discovered she could be a Penn State graduate without ever leaving Japan. The following excerpts from an interview with Ms. Ikeura demonstrate her unique, global perspective on the World Campus.
How did you hear about Penn State's World Campus and what other alternatives did you consider for getting your degree?
In a private English school where I was working in 1997 (in Hiroshima, Japan), I had several co-workers, both Japanese and British, who were finishing their master's degrees via distance learning programs offered by universities in England. As they told me of the possibility of taking undergraduate courses through distance learning, I started looking for universities (by using such sources as books and the Internet) that would actually offer me a bachelor's degree. As an alternative, I could apply to a local university in Japan. However, for many reasons, I wanted to finish my education in English. Also as an alternative, I could go to America and study there. But again, I wanted to continue working and living here in Hiroshima. As you can see, although people encouraged me to take distance learning courses, none of them actually knew about or suggested that I apply to Penn State as such. Rather, after carefully studying various possible schools in both the United Kingdom and the United States, I chose what I found to be the best, the Penn State World Campus!
How did the process work? In other words, do you have an adviser? How did you get assignments, do the work, take tests, etc.?
During the process of getting your degree from Penn State, one of the most important factors that keeps you motivated and moving is the support you get from your academic adviser. Over the past five years, my academic adviser has sent me endless encouraging e-mails, including her comments on my course work and future plans. Her support was especially vital in helping me through those difficult moments of doubt that every distance learning student inevitably faces. Some people find it very surprising to hear that I stay home and study more than ten hours a day, trying to finish six courses simultaneously. But if you have an academic adviser who is seriously dedicated to helping you accomplish your goal, then you too became a serious and dedicated student. Also, the fact that my proctor in Japan (exams must be taken under an approved proctor or a supervisor) was willing to spend her time to supervise my exams indeed helped me stay motivated in doing my distance learning assignments. Without these people's help, the "process" does not work effectively.
Were you pleased with the way Penn State responded to your questions/concerns?
My answer to this question is a firm yes. For example, since I live in Japan and surface mail takes time, some instructors have allowed me to request the exam (which takes two to three weeks to receive) even before I finished required assignments. Also, when I could not access my course's Web site, the technical support team corrected the problem immediately. Furthermore, when registering for new courses, I was always informed about possible problems that I may have, such as difficulties in finishing them and the availability of textbooks. In brief, I believe that Penn State has the students' best interests at heart and does everything possible to help students overcome problems.
In your opinion, does the course work and overall education through World Campus differ greatly from traditional classroom instruction? How?
The course work itself does not differ greatly. What is different is that you have to be prepared to spend a lot of time alone studying, reading, and writing. Some people might miss the interaction with other students, but on the other hand I was able to develop a very good relationship with my academic adviser and instructors by e-mail. So, perhaps in this sense, I received more personal attention than I might have done in a traditional classroom.
Would you recommend a World Campus education to others?
Considering what I said in my answer to question four, distance education is clearly not for everybody. However, for me the advantages are far greater than the disadvantages, and I would have no hesitation in recommending World Campus to anybody considering distance studies.
What do you most appreciate about Outreach specifically, and Penn State in general?
Apart from the invaluable help I got from my academic adviser as I have already said, I found all the instructors and indeed Penn State's staff in general to be extremely kind and helpful. I am also very grateful for their flexibility in granting me extensions when I was unable to meet deadlines through personal circumstances and so on.