R. Marie Thorne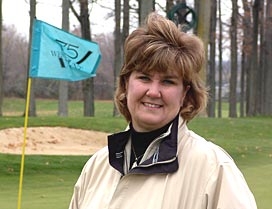 I've been able to recommend Penn State to the superintendents that I work with, and a few of them and their assistants have actually gone through the program.
Confident and career-driven, Marie Thorne seamlessly moves from diagnosing problem turfgrass on Canadian golf courses to speaking at industry conferences to advising/consulting with her company's marketing team. Her Penn State online certificate in turfgrass management gave Marie the knowledge she needed to bolster that professional experience and expand her skills in each area.
"Penn State's excellent reputation in the turfgrass industry as a leader in research, innovation, and practical solutions were some of the motivating factors that influenced my choice for a distance education," she said.
Marie entered the University of Guelph in Ontario, Canada, intending to major in veterinary science. However, her love of animals turned into a love of plants while at school; she switched her major to plant protection and began a career in the Canadian turfgrass industry after graduation.
She said, "Looking back on it, I'm glad that I decided to switch my major when I did and go back for that Penn State certificate because I can honestly say that I love what I am doing right now. I'm challenged with what I do and haven't grown tired of it."
The convenience and flexibility of Penn State's 15-credit online program allowed Marie to earn her certificate without having to quit her job or sacrifice a few rounds on the golf course. She learned about plant problems and golf course maintenance while she simultaneously encountered those problems on the job and shared her experience with her online peers through chat rooms and message boards.
"World Campus gave me the opportunity to pursue a higher education at a world-renowned institution and also enabled me to balance my full-time job with my schooling," she said.
Marie said she is unsure about the next step on her career path, but that she knows she will have the necessary skills, the confidence, and the Penn State name behind her in whatever she chooses.
"Penn State is recognized across Canada as a leader in turfgrass education," she said. "Being affiliated with the institution holds a certain degree of prestige that is recognized from coast to coast and is something I am always proud to say when introducing myself."