Pascale Malouin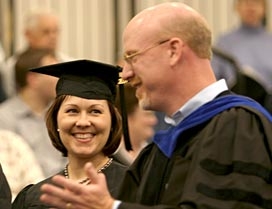 Penn State Online has given me the opportunity to learn from some of the most respected people in the field of project management ... It was an opportunity that had to be pursued.
As a project manager for AMEC, one the world's leading designers of infrastructure systems, Pascale Malouin already knew a thing or two about project management. Yet, when she was offered the chance to apply to Penn State's online master of project management program, she jumped at it. She had many educational choices closer to her home in Alberta, Canada, than the Penn State online program. None, however, compared to the quality and suitability of the Penn State online master of project management program.
"It's not offered everywhere. I had considered other programs like an MBA, but this one is so much more applicable to my job. And it works out well to do it by distance so I could still work at my job," said Pascale. "The program made a difference in the way I work even before I graduated. It was easily applicable. I've been applying the course concepts ever since I started three years ago."
Developed in partnership with industry-leading firms Rolls Royce, AMEC, Goodrich, and the University of Manchester in England, the master of project management program reflects the real needs of multi-national businesses. Led by Jeffery Pinto, who has won international acclaim for his research in project management and has written the Project Management Institute handbook, the Penn State team developed curriculum that exceeds industry standards and can be delivered online. It was faculty like Dr. Pinto, the Andrew Morrow and Elizabeth Lee Black Chair in Management Technology at the Sam and Irene Black School of Business at Penn State Behrend, that drew Pascale to the program.
In fact, Pascale was so proud to earn her Penn State degree that she took the six-hour flight from Alberta, Canada, to receive her degree in person, at the commencement ceremony at Penn State Erie.