Isiah Jones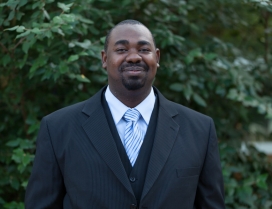 You can go anywhere in the world and find a friend because you're a Penn Stater.
When Isiah "Izzy" Jones received the Penn State World Campus Master of Professional Studies in Homeland Security with an option in Information Security and Forensics, his grandmother, Carrie Mae Brown, was delighted. "It goes beyond being proud," she said. "I am grateful and happy for what he has accomplished. He never gives up; he knew he could get his degree."
Izzy was working for the U.S. Navy when he noticed the growing concern about cybersecurity and cyber terrorism. As he considered a return to school, he knew that an education could give him an advantage in today's highly competitive job market. But he was not sure that he could work full-time and take classes, too. His grandmother knew differently: "Ever since he was a little bitty child … he had the determination to get things done."
At first, his course assignments seemed slightly overwhelming, but as Izzy learned to plan and prioritize, he enjoyed the classes and virtual labs in the program.
"I liked all the virtual technology," he said. "The virtual labs allowed me to hack into systems without breaking the law, and that made me want to do more!"
Having access to the latest tools and technology through World Campus also helped him move through his course work more smoothly.
Izzy credits a vast network of people who contributed to his success. His grandmother first inspired him to apply to World Campus and continued to encourage him to excel in his studies. His colleagues at work and other students in his classes also provided support. Often, he had a course with students who worked in cybersecurity and cyber terrorism on a daily basis.
"I would get frustrated with something and then post it on the forum," said Izzy. "Then I'd get a reply from someone in a different time zone, who would provide a link or offer additional topics for reading. That was pretty cool, and it helped me to learn even more."
First in his family to earn an undergraduate degree, Izzy is now the first to earn a master's degree. A proud Penn Stater, he enjoys sharing "WE ARE…!" with his fellow alums. His grandmother wants him to continue being a role model for his family: "He has to keep trying. He needs to set an example for my other grandchildren and great grandchildren. I want to do whatever I can to encourage Izzy to reach all of his goals!"