Abbey Caldwell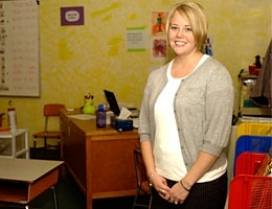 ABA is one of the only proven scientific interventions for autism, and I had a very strong background in it because of the classes I took.
Abbey Caldwell was working as therapeutic staff support (TSS) last summer when she found out about Penn State's online applied behavior analysis for special education program specifically geared toward combating autism, something she'd been passionate about since taking a class as an undergraduate. "Working as a TSS, we would go with the kids into school, but we weren't able to teach them or help them with their work at all," she says. "That was really frustrating for me, and I knew I needed to get a teaching certification."
At that time, Abbey was just one year out of school for her bachelor's degree. With student loans and bills to pay, she could not afford to quit her job to take courses. So she dove headfirst into everything – surprising herself in the process. "I never really thought of myself as being a very disciplined person," she says. "But working 42 hours per week and taking classes, I had to find a way to get everything done and I did. It definitely wasn't easy, but it was worth it in the end."
Now working full-time at a new autism school in State College, Abbey has what she calls her "dream job," creating and implementing specialized programs of study for each of her students. The program's curriculum prepared her to do all that and more. She says, "ABA is one of the only proven scientific interventions for autism, and I had a very strong background